Harmonic Module – E.V.P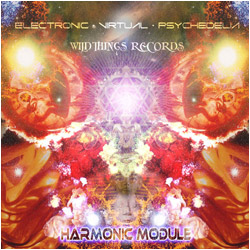 Label: Wildthings Records
Release date: 11/28/2005
Catalog number: WildCD002
E.V.P has been playing and circulating the U.K global psychedelic scene for the last five years, playing and tuning in people to his own unique style of oscillating, squelchy, synthesised rocking psychedelia.
He has captured quite a following of party people over these years. He has more recently been one of the pioneers in the continual drive of the London international trance scene to keep the parties going and the people dancing to the new underground psychedelic sound emerging from within the U.K.
His album is a highly original, hallucinogenic voyage through the synthesised world of sound. He has spent 5 months of last year travelling to promote his album and has recently returned from playing the Brazilian dance circuit where he was welcomed with great response for his quality of production and his refreshing new style of psychedelic sound. Over the months of October and November there is to be a Harmonic Module launch party in London, Brighton and Bristol to help promote the release of this album.
This first album is set to wake up the dance floor. It is a stream of swinging full fat bass lines and heavily manipulated sounds with chunky percussive breaks and fat thumping grooves. It is punchy and electrifying. This is music to get the dust flying on the dance floors whilst still enhancing the listener into a positive mind set. This is full-on fat trance music and has been created for the people to lose their inhibitions and to be taken on a voyage through the sound of Electronic Virtual Psychedelia