Holographic Consciousness – E.V.P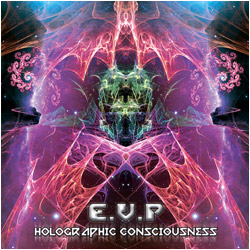 Label: Wildthings Records
Release date: 08/08/2008
Catalog number: WildCD007
This release highlights a definite progression in the E.V.P sound, driving yet groovy bass-lines coupled with some highly psychedelic sounds and processing, some slightly more serious sounds infused with some very entertaining samples and effects.
E.V.P also created all of the artwork and layout for the album,It has been fully dance-floor tested prior to release with great results at a number of international festivals.
3 of the tracks are collaborations with some of E.V.P's favourite artists, Syntax Error, Onkel Dunkel and Shotu.
We think that this music speaks for itself.