Sonic Driving – Archaic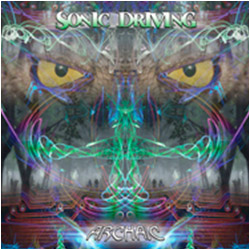 Label: Wildthings Records
Release date: 01/07/2011
Catalog number: WildCD015
Tracks:
>

Holographic Ideas


Archaic

>

Spirits Of The Rainforest


Archaic

>

Creepy Frequencies


Archaic
Wildthings Records bring you Archaic's eagerly anticipated second album "Sonic Driving".
Archaic's music combines the mystical organic sounds of the natural world with the synthetic processed sounds of the digital world and this album takes you on that journey, a voyage full of hypnotic, shamanic atmospheres and effected modulating rhythms and up beat grooves.
With "Sonic Driving", he has created a harder hitting, more twilight feel to the album compared to his first release, Wildness, whilst still using many of the familiar techniques that made his music very popular amongst listeners. His ability of manipulating sound and composition has stemmed from his 10 years of music production and this style of sound that Archaic has created has been influenced from his love of nature and shamanism, and from his many years in the music industry, stemming back through his early years involved in the indie and Punk scene, through the Goa era, up to this present day.
His music has evolved greatly through out his time in Wildthings and this has brought him  ever increasing international success and acclaim in the underground scene. He has been playing at many parties and festivals through out Europe, tuning people into this Wild shamanic digital sound he loves
Enjoy Sonic Driving, produced in the Greek mountains by Kostas Kanlis for dance floors and ears worldwide…