E.V.P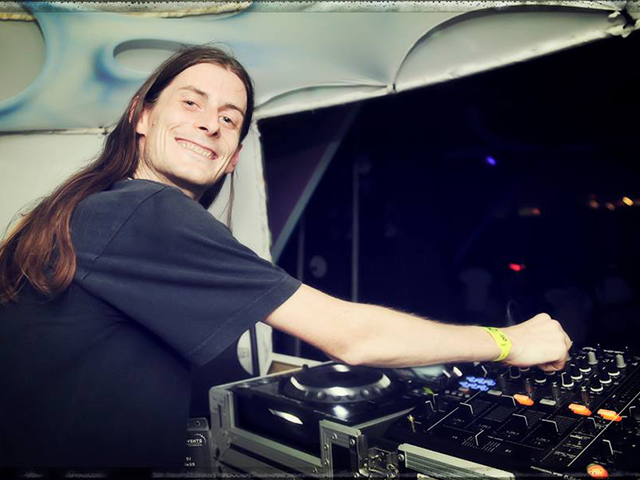 Biography
E.V.P – Electronic Virtual Psychedelia
Alex Diplock has been producing psychedelic trance under the name E.V.P since 1995. Including his side project RealityGrid Alex has already released 7 solo albums, and more recently his first digital only E.P – 'Wildscape' (WildEP 008). The release exploits the legendary Kyma sound design system and many other high end tools such as 3D spatial audio processing to produce a truly immersive and cinematic experience on the dance floor.
His uniquely positive, groovy and deeply psychedelic approach to music production and also mastering business Wild Mastering has earned him well deserved respect among the global production community.
Originating from psychedelic rock music he first attended Guitar Tech at brunel university at the age of 16, however deciding that electronic production was his path, he began with electronic music production. He later obtained his production skills learning to record, mix and master rock bands using SSL mixing consoles and pro-tools with Logic audio back in 2000, after which he obtained an RSA approved level 3 GNVQ studio engineer certificate.
Along with Beardy Weardy he runs Wildthings Records delivering all the creative aspects including album covers, promo graphics and website content and also A&R. He has been traversing the globe spreading the music to far off lands for a number of years now stimulating minds and bodies globally, and has now long been a regular fixture in the international festival circuit. He also works professionally in the field of Motion Capture, and 3D interactive software & show development.
In the last 10 years Alex has played in more than 60 countries, ranging small parties to huge festivals his festival bookings among others have included Soulclipse festival Turkey, Universo Parallelo Brazil, Nagisa Festival Japan, Exodus and Super Freak Festival Australia, Hadra Festival France, Aurora Festival Brazil, Intriyami festival Peru, Universal Religion Nepal, Future Nature Festival Croatia and Ozora festival, Boom Festival, Blackmoon, Momento Demento festival and many others.
He is now working with creative partner and mastermind programmer DJ Apex (Neil Mendoza) to create a Next Gen 3D/AV experience.
Booking
Email: beardy@wildthingsrecords.co.uk
The artist
Nationality: Alpha Centauri
Resident in: Milky Way